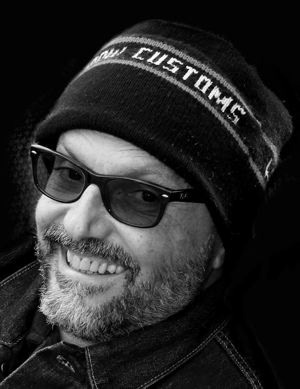 David Vicente developed an immeasurable passion for Rock'n'Roll or more specifically for Psychobilly.
His first pictures were inspired by bands, such as Meteors, The Cramps, Guanabatz, Batmobile, and his personal cult album .."Rockabilly Psychosis". He was especially moved by the graphics. So he began his career by drawing monsters and other characters that were all rebels in their way. In cooperation with well-known fashion agencies, magazines and photographers, he draws pin-ups, devils, American cars, motorcycles, posters, logos, skateboards and more... He develops his unique style by studying throroughly all the tendencies of a rich and fruitful culture out of the common run, including surf, hot-rod, tatoo, tiki... Boiling movements in constant transformation whose roadways cross and mix endlessly.
He was born in 1968 in the south of France, or was it in the 50's, in the southern United States, somewhere along the border between Arizona and California. Some claim to have seen him riding his red Harley Davidson fat boy through a dust cloud, the roar of his chromed engine on route 66. As David rode into the sunset with the wind in his hair, there was no smoke coming from his tailpipe, but a sound, a melody from the Cramps, that song Fever, but with a touch of punk rock. David Vicente is an illustrator with an insatiable appetite for adventure, and doesn't exactly settle for traditional illustrations. For David, anything works: paper, canvas, skateboards, leather, and cars. He'll print on any surface: the cover of an album, the skin of a rebellious teen, or even a surfboard. His colorful and sexy drawings and motifs go skin deep, they start on paper and soon an entire world of pin ups, zombies, bikers, femme fatales, bad boy rebels in leather and dark sunglasses unfurl before your very eyes.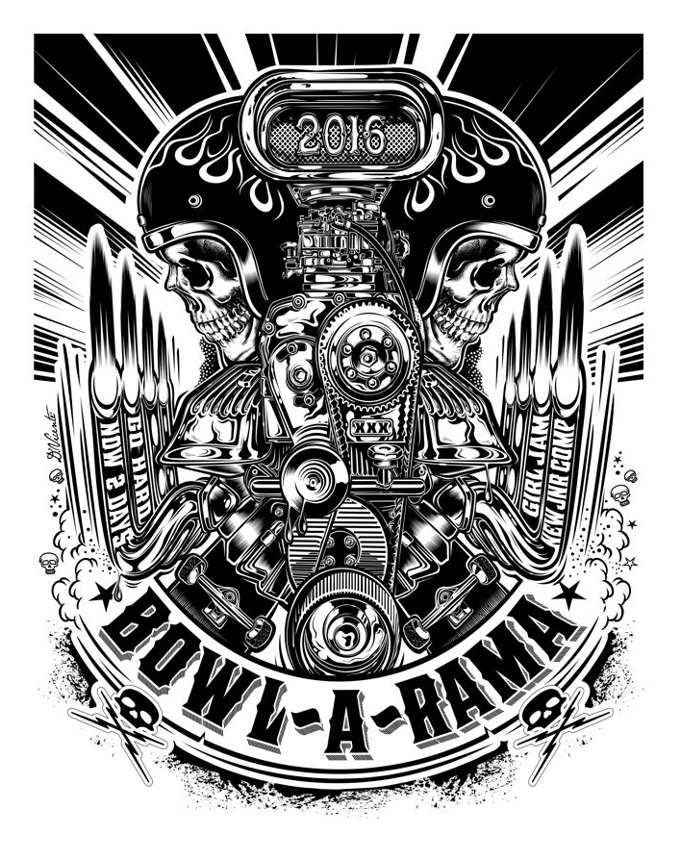 David Vicente's illustrations are inspired from a time when rock was rollin and pink Cadillac's were how you got around,this representation of American culture from the 50's and 60's on acid is about to cause an 18 car punk pile up. What does David have coursing through his veins? The answer is found in B movies, pinball machines, comics and Betty Boop, you also have sex and violence flipped up and turned upside down, a scornful and flashy style that laughs in the face of death. To sum up, He has rock and asphalt under his skin.
David Vicente is an illustrator with an insatiable As for his Tarantino illustrations, he takes us for a ride in a death proof car, pedal to the metal, with guitar riffs blasting on the radio, a gun in the glove box, travelling through decades, from the 50's into the 80's, from rockabilly to psychobilly. The spectator gets an eyeful of beautiful and strong women, grimy men that gamble, life is one big ride.
  by joy sorman